Dacia has joined the MPV league while delivering its well-priced option in a package that's neat and flexible. That's an overall impression after some time with the car and while you might come away with the impression that it lacks excitement, for many drivers where packing the family into an affordable option is the only choice, the Jogger more than ticks the boxes.
I've had the top specification Extreme Jogger on the road with its 1.0 litre turbo-charged three-cylinder petrol engine. My first thoughts were could this neat power plant really deliver the pace need with the full seven seats loaded. And that's probably the biggest challenge for the Jogger rather than its space capacity.
The engine is modest in power terms at 109hp, and the pulling power is more defined by the engine torque at 200Nm. Those power levels are fine for many smaller cars but load up the Jogger and aim for a weekend away and you'll soon notice that engine power is not exactly its strong point.
Take a more modest driving approach and that includes a lighter right foot and the six-speed gearbox, while a bit clunky, will allow reasonable economy. You'll rarely feel comfortable in sixth gear except when up and cruising near to 100km/hr, while town driving will require some gear work.
I treated the Jogger with respect, and it delivered a range that exceeded the rated figure of 860km on a full 50 litre tank. That's an acceptable level of economy but I caution that there was little stop start town or city driving. Over a leisurely driving week, the Dacia seven-seat Jogger grew on me for its flexibility with the easy folded third row of seats.
All the basic comforts are included with Apple CarPlay on the adequate size centre screen. There are plenty of USB ports for charging and the analogue screen behind the steering wheel is simple and clear giving an uncluttered and non-fussy layout that's easy to get used to.
The heating system on the test car was electronic and simple. The weather was good, so air-con was used when needed. Again, all simple and easy to use controls.
That third row of seats are reasonable in structure and easy to bring into and out of use. With the third row in use, boot space is very limited. That's not too unusual for seven-seat MPV's so I wouldn't fault the car in this respect. With the third row of seats folded there is more than average boot space, while lower the second and third rows gives real load carrying capacity. But no spare wheel included.
The Dacia Jogger comes with a good level of safety and driving kit. All versions are equipped with air conditioning, cruise control, and rear parking sensors as standard. There are three versions, Essential, Comfort and Extreme. You need to go to the Extreme level to get the benefit of alloy wheels which make a difference to the car. The difference in price, which includes a lot more kit is over €3,000, while the car is still very competitive in price.
The MPV feels has a hint of an SUV as the Jogger has a generous 200mm of ground clearance. The body structure is claimed to be reinforced, and protective body-cladding gives an off-road feel, depending on the colour chosen.
For its size, the Jogger has lots of storage space include a 7-litre glove box and good size door pockets. There is a 1.3-litre lidded storage bin within the centre console and the car has six cup-holders.
While this Dacia has lots of safety features on the specification listing, it has come out poorly in its Euro NCAP crash test with just one star. This is despite that all Jogger models come with six airbags, including curtain and side airbags to protect the abdomen, chest, and head, as well as a range of advanced driver assistance systems (ADAS).
These include Automatic Emergency Braking System (AEBS), Blind Spot Warning, and Park Assist with four ultrasonic rear sensors as standard across all trim levels. Comfort and Extreme SE models gain an additional four front sensors and a rear-view camera to provide both audible and visual assistance during parking.
All versions come with Hill Start Assist, Electronic Stability Control, automatic headlights, cruise control with speed limiter, and emergency E-call. They are also fitted with an electric parking brake. So why the poor Euro NCAP crash test result? The poor result was down to vehicle structural protection during crash tests, according to Euro NCAP.
Entry prices start at €23,290 which makes this Jogger by far the most affordable seven-seat car on the market. Few will opt for the entry level, typically choosing the Extreme version, it just looks so much better.
The Dacia Jogger does meet the seven-seat challenge in an affordable way. Its more MPV than SUV so it doesn't have the higher seat position of the likes of the far more expensive Nissan X-Trail. So, it might feel less confident on the road and so may its driver. However, treat it with driving respect, don't expect too much in terms of power and acceleration and you'll find value in the three-year 100,000km warranty and economy.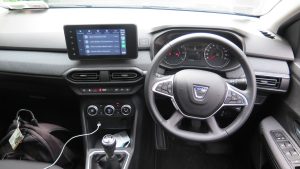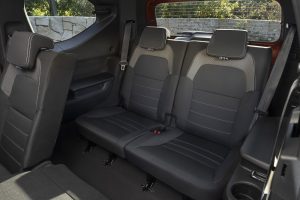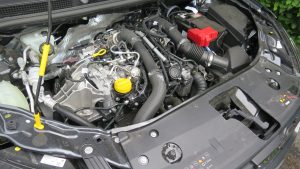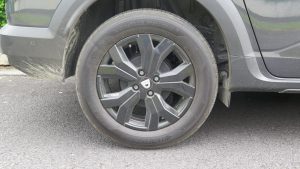 Dacia Jogger – specifications
Engine
1.0 litre
Engine power
109bhp
Engine Torque
200Nm
0 – 100km/hr
11.2 seconds
Economy (WLTP)
17.2km/litre (5.8/100km or 49mpg)
Fuel Tank Capacity
50 litres
CO2 emissions
132g/km
Range (theoretical)
860km
Road Tax Rate
€200
Euro NCAP Rating
1 Star (2021)
Luggage Capacity
699 litres/2085 litres
Towing Capacity
1200kg
Warranty
3 years
Entry Price
€23,290