One of the more pleasant aspects of testing new cars is that you like to be surprised. And that's not just surprised by the cars features and its design, more surprised that your pre-conceived ideas about the car are shattered after a few days behind the wheel.
For some reason and I don't know why, I didn't expect to be wildly enthusiastic about the new Ford Mustang e-Mach. I had simply no reason to feel like that about the car after seeing it on the road and in the dealer's forecourt.
Within a day behind the wheel and certainly after almost 900km of driving across Ireland on two long runs, I was truly converted. This car has all of the size and strength of the Mondeo, in pure electric mode and has the potential to be user friendly with its impressive range.
The e-Mach is the first SUV member of the Mustang family, and it comes with a choice of single-motor rear-wheel drive or dual-motor all-wheel drive performance that can deliver very impressive 0-100 km/h acceleration in as little as 3.7 seconds. That power capability is instantly noticeable, and the car is packed with technology features that allow you to manage it in a way that can be either fun or frugal.
I took the Ford Mustang e-Mach to the Ploughing Championships where we crossed country in every sense of the word. Day one of Ploughing left a dry field surface in the car parks, so that was no challenge for the Ford Mustang e-Mach. It cruised across the stubble tramlines with ease.
Then it was a drive to the West of Ireland after a full 460km home charge. As we cruised at 100km/hr on the motorway the car appeared effortless and the range was as predicted, so it was time for a re-charge. Smaller towns have slow chargers in place and Gort railway station is typical of this offering. A high-speed charge was needed on the way home.
Ford is offering Mustang Mach-E customers an optional Ford Connected 7.4 kW Wallbox to for home charging and claim that it can top up the Mustang Mach-E battery from 10 per cent to 80 per cent in as little as 8 hours.
Mustang Mach-E customers also get two charging cables to keep them driving wherever their journey leads. The 6-metre Ford Public Charge Cable is compatible with the common charging standard in Europe, while the 6.7-metre Universal Home Charge Cord enables connection to either a standard domestic socket or 32 A blue industrial socket.
Charging on the road with up to 150kW using an IONITY charger, Ford claims that the Mustang Mach-E Rear-Wheel Drive with the extended-range battery will add an average of 119 km driving range within approximately 10 minutes of charging.
Charging challenges aside, this Ford Mustang e-Mach uses technology in a smart way. The option of rear-wheel-drive or all-wheel-drive means that there is a choice in terms of range, with the rear-wheel-drive offering the longer-range capacity. There are so many features of the car that you can choose to use and managing the settings to suit you is logical but might take some time. Ford claims that the new SYNC 4A used in the car give up to 80 customised vehicle settings to suit individual drivers.
Apple CarPlay and Android Auto are both pre-installed in the e-Mach and with cable-free connectivity. The larger 15.5-inch full HD touch display is easy to use and can be controlled and navigated using pinch, zoom and rotate touch controls. There is an old-school dial at the bottom of the screen makes for quick adjustment of the volume for music or conference calls. Ford has enhanced the car's connectivity with SYNC AppLink, allowing the use of apps such as what3words, Waze and WebEx to give further integration between car and your smartphone. A wireless charging pad for smartphones is also standard.
Ford has a new Phone As A Key technology system available for the Mustang Mach-E. Using Bluetooth, the car can detect your smartphone as you approach, unlocking the doors without getting your phone out of your pockets or using a key fob. There's also a backup code can be entered into a keypad on the car's B-pillar which can also be used to unlock the car, supported by a separate code into the centre touchscreen to start and drive the vehicle, if your phone battery dies.
There's a large boot in the Ford Mustang e-Mach, extending to 1420 litres with the rear seats folded. The only disappointing feature is the boot cover, which is flimsy and light. Sometimes, it the simple things that annoy you and with the Ford Mustang e-Mach it was this feature.
Overall, the Ford Mustang e-Mach is such an impressive car and I'm converted. The range capacity makes this car a real alternative, even if the entry price doesn't. The entry price at €61,493 for the rear-wheel-drive version is expensive for Ford owners who want to switch up to electric drive from their existing Mondeo. Ford will justify this by the capacity of the car that weighs in 2 tonnes, which believe it of not, is modest for a big battery car of this size. The Ford badge is missing in place of the Mustang logo, the heritage is still strong and while Ford has been slower than others to offer electric choices, this is truly a good one.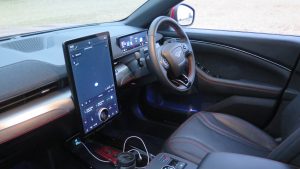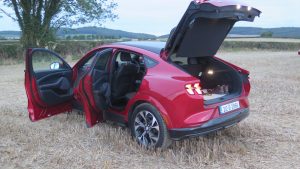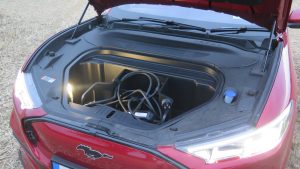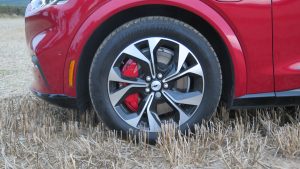 Ford Mustang e-Mach – specifications
Engine/Motor
All electric
Motor power
269bhp (198kW)
Motor Torque
430Nm
0 – 100km/hr
6.1 seconds
Economy
17.2kWh/100km
Range Theoretical
440km
Turning Circle
11.6m
Charging Time
8hr
Road Tax Annual
A €120
Main Service
12 months or 30,000km
Euro NCAP Rating
5 Star (2021)
Luggage Capacity
402/1420 litres
Towing Capacity
750kg
Warranty
3 years on 8 years on battery
Entry Price
€61,493 after grants & delivery